The St Mary's Patient Experience Hub started in June 2016. Below we summarise some of the completed projects and successes.
Students use Simulation to tackle Mental Health | SqS Event | September 2018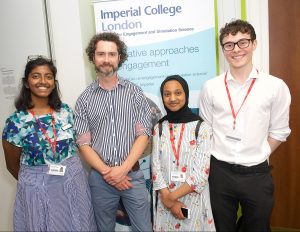 Third year Imperial medical students Joshua Walton, Amna Ahmed and Thivvi Gangatharan have created the medical simulation to show students how they can tackle mental health problems, and to encourage them to seek help at the earliest opportunity.
A recent study showed that nearly one in three medical students worldwide experience depression during their studies. Identifying and supporting students with depression at an earlier stage can improve wellbeing and minimise burnout.
Students will watch the live performance from September, before discussing it and sharing thoughts and feedback in groups. It  depicts a medical student, played by an actor, at home, talking to a friend and describing typical symptoms of depression such as low mood and difficulty sleeping.
The student then visits a GP, played by a clinician at Imperial College Healthcare NHS Trust. After discussing medical history, symptoms and other background information, the doctor expresses their concern to the student that they may be depressed, and offers anti-depressants, cognitive behavioural therapy and self-care resources such as support groups and exercise activities.
I think there's something quite pertinent in showing something visually live. Because it's all well and good talking about it on social media and putting up posters and things like that, but when it's actually in front of you, you have to engage with it

Thivvi Gangatharan | Third year medical student at Imperial College London
St Mary's Patient Experience Hub | Showcase Event | 27th June 2018
The St Mary's Patient Experience Hub is an initiative designed to use medical simulation and tools to improve the experience of patients and families at St Mary's Hospital.
The Hub is led by the Imperial College Centre of Engagement and Simulation Science (ICCESS), co-directed by Professor Roger Kneebone and Dr Fernando Bello. They are working in partnership with Imperial College NHS Healthcare Trust and the project is funded by Imperial Health Charity.
Dr Fernando Bello said:  "Providing good patient experience of our NHS services is a vital outcome in the work that we do.  It has been shown that good patient experience leads to better clinical results.  The Hub aims to be a leader in this field by using our simulation and tools to redesign care pathways, train clinical staff and to improve the delivery of care.  I hope guests at our event were inspired by the work that we do and will get involved in our research and engagement activities."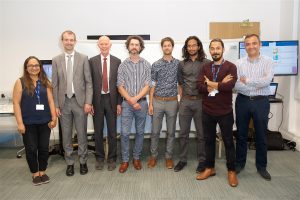 At the event guests had the opportunity to learn more of a robotic rectum, which could help doctors, and nurses detect prostate and rectal cancer. The technology, which consists of prosthetic buttocks and rectum with in-built robotic technology, has been developed by scientists at the Simulation and Modelling in Medicine and Surgery Research Group (SiMMS)  at the College.
How to look after your unwell child (SqS Event) – 23rd May 2018
A pilot Sequential Simulation event in collaboration with Connecting Care for Children (CC4C) aimed at first-time parents but beneficial for parents in general, took place at the White City Community Centre on the 23rd of May 2018.
The event featured a sequential simulation (SqS) which charted the journey of a first-time mother as she made her way through the health care system when her infant child is taken ill. The simulation illustrated the struggle, anxiety and stress experienced by many parents when they are faced with an unwell child for the first time.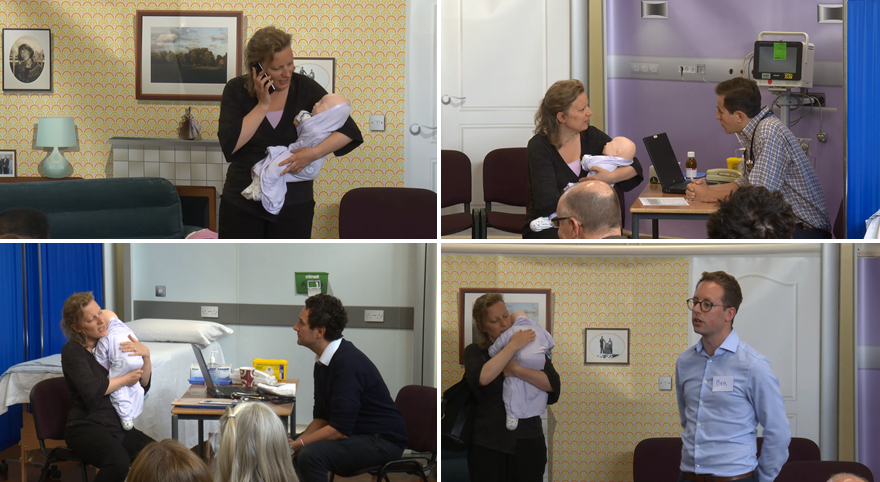 More than 30 parents, GPs and clinicians attended the event.  The aim of the event was to get feedback from families and clinicians who deliver child health services in the area on their experience and improvements that can be made.
(SAMS) Patient Engagement Event – 21st November 2016
The first event of our Sharing Approaches to Maternity Services project was held at St Mary's Hospital in front of an audience consisting of St Mary's mothers and maternity staff. The event sought to engage mothers in exploring the maternity care pathway to gain their personal perspectives, informing the design of the rest of the project and capturing best practice in maternity services.
A Sequential Simulation (SqS) that compressed a nine-month maternity pathway into 30 minutes was delivered at the event.  The simulation featured a GP surgery, maternity clinic and ultrasound clinic (see image below).  We anticipated that the simulation would encourage mothers to remember their own experiences of the journey along the maternity care pathway, which could then be captured during the subsequent discussion.
The discussion generated themes around the lack of continuity of care during pregnancy, inconsistencies in the information given and the way in which it is provided, lack of social support, time pressures during clinical interactions, and too many or too few appointments. These themes were then incorporated into the development of the subsequent SqS simulations aiming to map North West London's maternity services, thus allowing St Mary's mothers to have a direct input into the future of such services.